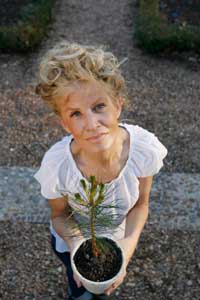 You might fondly recall Bartlett Arboretum in Belle Plaine as a place you and you family visited during Tulip Time, where your class took field trips or perhaps where your cousin Sally was married. But just a few years ago, the turn-of-the-century masterpiece was in overgrown disrepair.
In 1997, a Texas teacher traveling across Kansas happened upon a for-sale sign and saw through the prickly brambles and broken spirit of a once-proud forest. Robin Macy didn't know Bartlett Arboretum in its glory days, but she saw something in it that locals had become blind to – its unique promise and towering soul.
Though she's best known as a singer and founding member of the Dixie Chicks, Macy's calling is as the current steward of Bartlett Arboretum, 20 miles south of Wichita.
Born perhaps 50 years too late, Macy is known for her distinctive, other-era voice and love of all things old, including tractors, dogs, Martin guitars and vintage gardens. She's still true to her bluegrass roots and performs regularly around the region.
A former teacher, Macy proudly spent 29 years in a mathematics classroom. She would readily tell you: "Teacher's make the biggest difference in the world – not the CEOs or politicians."
Macy is now dedicated to restoring, preserving and renewing the Kansas jewel that is Bartlett Arboretum. She doesn't do it alone, of course. Various Kansas characters have wandered into her life and onto the property: an old-timer to fix a chainsaw, a master gardener to prune the roses, a craftsman to build a Garaj Mahal, an arborist to trim the mature tree canopy.
There's also a small but devoted army of gardening enthusiasts - the Soil Sisters and Brothers - who are dedicated to the ongoing renaissance. They are the lifeblood of Arb support.
Like any businessperson, Macy has a bottom line to consider. She's continually looking at ways for the Arboretum to sustain itself. She has re-instituted weddings in the gardens and has added concerts among the trees along with salons in the refurbished Santa Fe Railroad Depot, recently relocated onto the property. She hosts an annual Great Gatsbyesque croquet benefit, corporate events and garden clubs.
Bartlett Arboretum is now part of the Legacy Community Foundation in Winfield, Kansas a 501(c)3. Patrons are now able to make tax-deductible contributions through this organization to enable the continued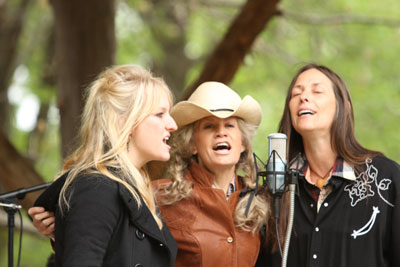 renaissance of the historic property.
In great American tradition, Macy draws upon Henry David Thoreau and Bill Monroe for inspiration.
"The first line of Walden suggests that we go 'to the woods to live deliberately,' " Macy says.
"Mr. Monroe is credited with 'the high, lonesome sound."
For me, to create music and to live deliberately among trees – and to appreciate my fellow man – is the essence of my being."